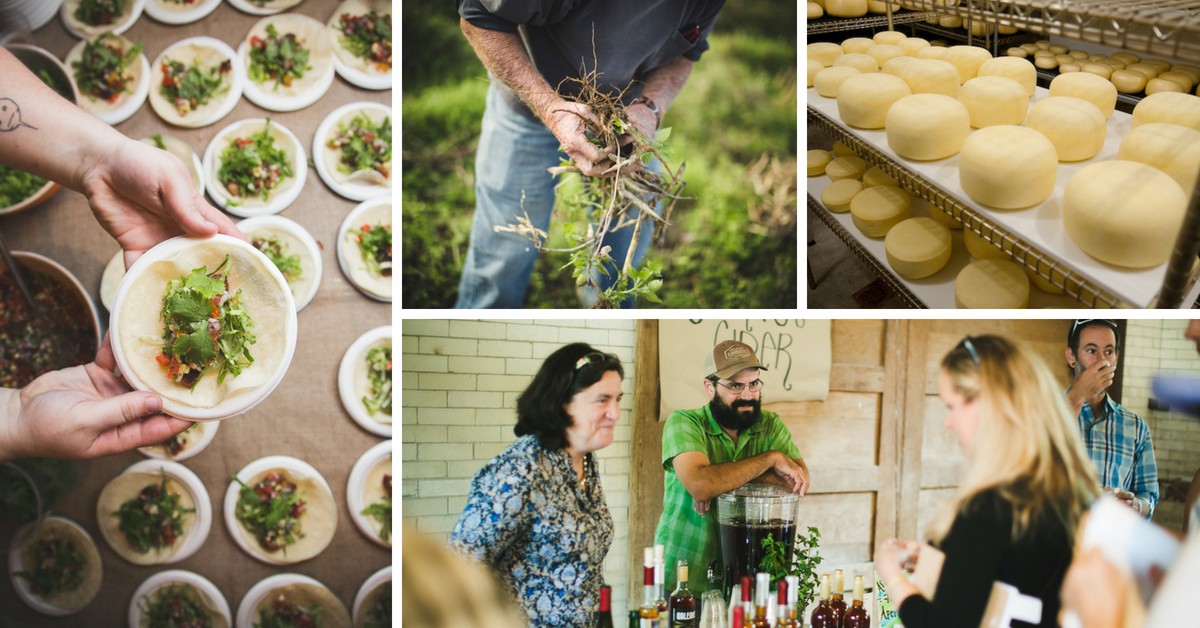 Vermont Fresh Network 22nd Annual Forum Dinner - SOLD OUT
THIS EVENT IS SOLD OUT! Even the "call me if you have a group cancel" list is full. But you can still mark your calendar for next year - it's always the first Sunday in August. And you can find lots of other great food events happening this weekend at our sister site DigInVT.com.
Join us at the Vermont Fresh Network Annual Forum Dinner! For one special evening in August, farmers and chefs from all across Vermont come together to prepare a sensational meal for you and fellow food enthusiasts. This grazing farm-to-table dinner is a fundraiser for the Vermont Fresh Network — all proceeds go to continuing programming that helps bring more Vermont grown and raised food to the table. Join as a Supporting Member of VFN and receive discounted tickets on this and other events for the next year, details here. Members enter discount code at checkout.
---
Schedule for the Evening:
5:00 - Doors Open to Guests

5:00 to 6:00 - Vermont Artisanal Products Tasting
Taste some of the most innovative and delicious new culinary treasures created by Vermont food artisans.
Celebrate the dedication of Vermont's new wave of cidermakers, winemakers, brewers, and distillers as they share tastes of their varied creations (along with non-alcoholic beverages).
Enjoy music by Larks in the Attic.
5:00 to 7:30 - Silent Auction
Bid on Vermont food and farm experience packages, from romantic getaways at country inns to feasts for a group of friends, in our popular Silent Auction.
6:00 to 8:00 - Grazing Dinner
Enjoy the bounty of local products grown and raised by Vermont's farmers and highlighted in delectable offerings by the state's finest chefs - it is a dinner like no other.
7:30 - Vote for Best Bite

7:30 to 8:00 - Ice Cream Social with Strafford Organic Creamery
---
Useful Notes:
There will be a Cash Bar, but alcohol samplings are free. Please bring a photo ID, you will be carded in order to sample alcohol.
We have a number of fantastic offerings for a silent auction fundraiser at the event this year - come prepared to participate! Checks are preferred, credit card payments are also accepted.
There is no ATM on the property.
Weather permitting; parking will be on the field in front of the Coach Barn.
No dogs are allowed on Shelburne Farms property.
---
Thank You to our Sponsors:
Our host, Shelburne Farms.
Affiliate Partners: Farrell Distributing, Foley Services, Hotel Vermont, Black River Produce.
Gold: Citizen Cider, Dealer.com, UVM Dining/Vermont First, Shelburne Farms, Zero Gravity.
Silver: Bluehouse Group, Community National Bank, Front Porch Forum, Gallagher, Flynn & Company, Gardener's Supply Company, People's United Bank, Vermont Agency of Agriculture, Vermont Creamery, Vermont Department of Tourism, VT Ski + Ride Magazine, Vermont Tent Company.
Bronze: Cabot Creamery, City Market/Onion River Co-op, Grow Compost, Hannaford Supermarkets, New England Culinary Institute, New England Federal Credit Union, UVM Extension.
---
Looking for more great food experiences?
Check out our sister site DigInVT.com for a guide to exploring Vermont farms, food artisans, eateries, and special events across the state and throughout the year.